Description
| | |
| --- | --- |
| 1x | BT-tester unit |
| 1x | Val bestendige rubber hoes |
| 1x | Batterij CR 2032 |
| 1x | Handleiding |
UV-A Bluetooth tester
UV-A tester for the analysis of UV-A lamps with your mobile phone.
The new Bluetooth UV-A tester is designed to check the status of UV-A lamps in the field. It can be used by maintenance technicians, and salespeople, but also by customers and inspectors.
The tester is designed to provide a price-competitive, easy-to-use tool for checking the efficiency of UV-A lamps. As we all know, there is still little or no awareness of the fact that UV-A light deteriorates over time and, as a result, lamps are not replaced or are replaced too late.
This is a compact and easy-to-use UV sensor, which is used to measure the UV-A output of UV lamps, and replaces the previous model.
How does the Bluetooth UV-A tester work?
The Bluetooth UV tester measures and analyses the UV-A light from your UV-A lamps in your fly trap/insect trap. Het mIt connects to any Smartphone via Bluetooth 4.0 or higher. Connects to any Smartphone via Bluetooth 4.0 or higher. This way you can check if the lamps of your insect traps are working efficiently. You can also compare and see for yourself how much more efficient the ASTRON or Signify/Philips UV-A lamps are!
Unless you are already using ASTRON or Signify/Philips lamps, you will be surprised how little UV-A light comes from many other lamps. The Alcochem UV-A tester works simply with your smartphone
Connect the bluetooth UV-A tester via your Smartphone with the Alcochem UV app (available in the app stores).
The UV-A tester BT is powered by a cell battery with a lifetime of about 1 year. The tester is there to provide the data you need to ensure that your insect trap keeps your premises free of flying insects.
The tester is suitable for: UV-A fluorescent lamps and LED lamps.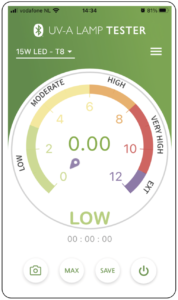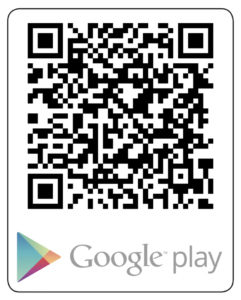 Package contents
If you have any questions about this product please contact our team and they will be happy to answer all your questions!
Are you looking for a spare part for your Alcochem Hygiene product, Firstelementsstore.com can supply many parts, after all, repair is better than replace. Send us a message and we'll see what we can do for you. Read here our blog on why repairing is better!
To learn more about Alcochem Hygiene and the products they produce see the website here: www.Alcochemhygiene.com